Festival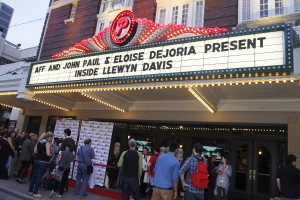 This October 23- 30, 2014, Austin Film Festival & Conference will again showcase the very best that the city has to offer – convenient downtown venues, fun parties at Austin's fine bars and restaurants, and community partnerships – while presenting an outstanding program of narrative, animation and documentary features and shorts, including premieres, advanced screenings, and independent films. Film screenings are complemented by lively and informative Q&A sessions with cast members and filmmakers. Please join us for the 21st Annual Austin Film Festival, October 23 – 30, 2014 and be the first to see all of the great movies everyone will be talking about next year.

How to attend the festival
Your $65 Film Pass gets you into:
Opening Night Premiere
Centerpiece Premiere
Closing Night Premiere
Film Pass Party*
8 days of the best indie and studio films around!
Or, upgrade to a Badge (various levels and prices) and get:
all of the advantages of the Film Pass with priority entry into films; and
daytime panels with unparalleled networking opportunities; and
insider access to the best screenwriters and filmmakers in the industry; and
entry to the exclusive late-night parties* where you just might meet America Ferrera, Wes Anderson, Oliver Stone, Mike Judge, Luke Wilson, and more.
Interested in Submitting?
AFF provides an invaluable platform for filmmakers to showcase their craft among industry professionals and film-lovers. Offering distinguished jurors, amazing venues and an opportunity to network, flourish and learn in one of the most dynamic, up-and-coming cities, Austin Film Festival is the place to be this October. The Film Competition will open for submissions in December!

About the Festival
Barbara Morgan and Marsha Milam founded Austin Film Festival in 1993 to celebrate the art of storytelling through film. For the last 20 years, Austin Film Festival has taken pride in championing great work from legendary, contemporary and rising talent. Known as the "Writer's Festival," AFF recognizes the writer as the core of the creative process in filmmaking. Diligently seeking strong examples of written and visual storytelling, AFF screens the highest caliber narrative, documentary and animated films.
With over 200 regional, national and world premieres each year, AFF features everything from highly anticipated Hollywood fare to breakthrough independent filmmaking. Set against the vibrant and creative backdrop of Austin, AFF brings together cultured audiences, artists and award-winning films. The 20th Annual Austin Film Festival in 2013 included screenings such as: Inside Llewyn Davis, 12 Years a Slave, Dallas Buyers Club, August: Osage County, Nebraska, and many more!
It's never too early to start planning! Visit our Travel & Lodging page to book your trip to Austin this October!
* For admittance into parties, all attendees must be 21 or over.