News
>
AFF Interview: Joseph Levy on SPINNING PLATES
AFF Interview: Joseph Levy on SPINNING PLATES
05.01.13 | Bears Fonté
Monday, May 6th brings the close of this year's Austin Film Festival Audience Award Series. One of our favorite year round event series, these "Best of Fest" screenings give the Austin community a second chance at seeing AFF's Audience Award favorites. Our last screening in the series, SPINNING PLATES will take place on Monday, May 6th at 7:00 the Alamo Drafthouse Village. Writer/Director Joseph Levy will be in attendance for a post-screening Q&A but AFF sat down with him beforehand for a pre-interview. For more information on the screening, click here.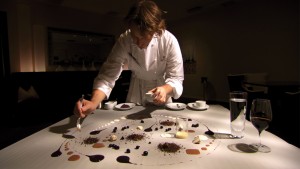 Austin Film Festival: Your film follows three restauranteers and various stages of their restaurant's development.  How did you find them and how did you know you had the right people to focus the film around?
Joseph Levy: Alinea was the easiest find since I already knew Grant Achatz.  In 2003, I made a Food Network show called Into the Fire that looked behind-the-scenes at some of the nation's most renowned restaurants.  At the time, Grant was the executive chef of Trio, just outside of Chicago.  The dinner I had at Trio was the most incredible dining experience of my life (only to be surpassed by later experiences at Alinea), and at 29-years-old, Grant was a fascinating, driven character.  Several years later, he opened Alinea, which was soon named the best restaurant in the nation.  Two years after that, Grant would receive a diagnosis thrusting him into a fight for his life.  Grant is one of the most interesting and brilliant people I have ever met, and I really wanted to tell his story.
Breitbach's Country Dining involves a much larger cast and is about the incredible relationship between a restaurant and a town.  I had never heard of Breitbach's prior to 2010, but I knew the basic blueprint I was looking for.  I was looking for something like a particular restaurant I grew up with in Corpus Christi, Texas, called Andy's Country Kitchen – a place where everybody seemed to know everyone else and the color of your collar didn't matter.  It was a place where community just happened around food.  But Corpus has about 300,000 people and I wanted to find a place where the stakes were higher – where the restaurant was the heart of the town.  Because of their 150-year-old history and some of the things that the restaurant and the town went through that are talked about in the film, it wasn't long before I found myself in Balltown, Iowa – a town of about 70 with a restaurant that seats 400 that on some weekends serves 2000.  But at the center of this family-owned legacy is a very special and beautiful relationship with its community, and an amazing story of how that relationship was put to the test.  Breitbach's was everything I was looking for and more.
The third restaurant, La Cocina de Gabby, was a very hard find and took months of searching.  I knew the story I wanted to tell – an ethnic restaurant run by owners who came to the U.S. in search of the American Dream.  I also knew that I wanted the drama driving their story to be incredibly true.  Most of the drama that people know of the food world today comes from what's shown on television – screaming chefs and mystery basket competitions.  I have nothing against that programming, but it's entertainment… it's manufactured and it's an incomplete picture.  This is the story of a couple trying to save their home from foreclosure and keep their family together while providing for their 3-year-old daughter.  I feel it's a very important story to tell because it's incredibly prevalent and a very real snapshot of a part of the restaurant world that doesn't get shown.  So how do you find a restaurant that's struggling because not many people know about it?  After many food trips to different cities (one in particular comes to mind in San Diego that involved eating at 8 restaurants in 8 hours) and hours of searching on the internet for restaurants with only enough presence that I could find them, I found La Cocina de Gabby.  I got on a plane to Tucson the next day, got to the restaurant in time for lunch, took in the atmosphere (and food) for an hour, and then finally introduced myself to the owner.  Within minutes he was baring his soul to me with his wife and daughter at his side, and there was no question in my mind that this was the restaurant for the film.
AFF: Food is so 'hot' right now on television, and obviously made a great subject for your film.  Why do you think America is so obsessed with chefs, celebrity chefs and food culture right now?
Levy: Food is universal.  Everyone eats.  And for the most part, even people who don't consider themselves 'foodies' or food-lovers might have an unforgettable memory of a meal their grandmother once cooked for them when they were young.  We can superimpose emotion upon food, much like music.  Just as one might remember the first song they danced to with their spouse, they probably remember the first meal they ever shared.  Food is familiar… food is comfort… food is love.
But suddenly, in the last decade or so, food is sexy… trendy.  And whereas before, a great cookie recipe would make you incredibly popular at your family's holiday party, now it can win you a baking competition, make you a TV star, get you a new career and get you a hundred thousand followers on twitter.
But most of all, food is fun.  Almost everyone loves eating out.  And now finding the newest great restaurant is something that's almost become a sort of online community sport.  But at the end of the day, whether it's a bowl of tomato soup from mom or a lobster mac & cheese empanada from a trendy pop-up, we love being nurtured through food.
AFF: Shooting a documentary always involves collecting far more film than you could ever use to catch the right moments.  Was there anything you left out of the final edit of the film that you found to be really interesting?  In the end, why did you cut it?
Levy: Truthfully, our total footage shot is unbelievably low.  We were very surgical and very conservative – drilled in on story from day one.  But I do have about 5 hours of the most fascinating interview footage with Grant Achatz.  Probably less than 10 minutes of it made it into the film.  I've always thought I could have just released that interview and called it a day.
AFF: Many people have said that documentary films are more popular now than ever before.  Do you think that's true?  Why or why not?
Levy: I think docs are perhaps more accessible than ever before.  I can't tell you how many people tell me that they watch countless documentaries on Netflix.  And I imagine the audience has grown substantially as a lot of people who once thought of documentaries as sterile, academic films have eventually come to think of the genre as being just as entertaining as narrative.
AFF:  Our film competition is running right now, with a late deadline of July 15th.  There are probably many doc and doc short filmmakers putting the final touches on their film right now.  Any advice for them?
Levy: As a life-long musician and film-scoring major, music was critical to me from the start.  I spent about a month putting the temp score together and was fortunate enough to get a spectacular score from an amazing composer – Ed Shearmur.  If I had any advice for those last few months, it would be to make sure the score isn't just accompanying the film, but really taking it to a higher level.
AFF: Bonus question: it's you last meal before a 1 year oatmeal smoothie fast.  What do you want?
Levy: I'd go to a great food city and have a multi-hour, multi-restaurant progressive dinner throughout the city, eating a little of every type of food.  I also call this "research."
For more information on SPINNING PLATES, to watch the trailer, or for tickets, click here.
To keep up with the latest AFF News and all AFF Interviews, Staff Picks, and Guest Blogs, subscribe to our RSS Feed.