News
>
Cast Your Vote in the Film Poster Competition
Cast Your Vote in the Film Poster Competition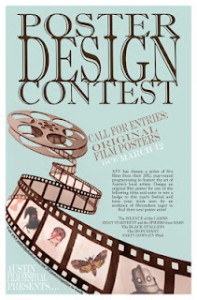 This year, Austin Film Festival hosted its first film poster competition, encouraging artists to choose a film in AFF's year-round film program and re-envision the movie poster for that film. For each of the films, AFF chose a winning poster and printed a limited edition run, sold at the screening. Now, the artists of the five winning posters (below) have a chance to win a Producers Badge to this year's Festival! The winning poster will also be printed and sold at the Festival.
Vote for your favorite by selecting your favorite poster and clicking "submit your vote". Don't forget to click "like" and send the contest to your friends!
Voting closes September 21st at 5pm CST.
More Information
Click the links below to find out more about the artists and view larger versions of the posters!
Tell Your Friends to Vote!