News
>
Staff Blog – Bears Fonté: My Opening Day Baseball Movie Lineup
Staff Blog – Bears Fonté: My Opening Day Baseball Movie Lineup
04.03.13 | Bears Fonté
With relative little national hoopla, Baseball's opening day came and went this week.  Growing up, Opening Day was the second thing I'd put on a new calendar, right after my birthday.  Third was the day pitchers and catchers reported to spring training.  This isn't a blog about how baseball has slowly eroded from the national consciousness since the strike, the steroids, the asterisks and endless expansion of post-season and interleague play.  Despite the national pastime being eclipsed by the NFL, College Football, NCAA March Madness and hating the Miami Heat, baseball still unquestionably supplies more stories to the sports movie pantheon than any other athletic pursuit.
Next week Austin Film Festival brings an advanced screening of 42 to Austin, as well as a conversation with writer/director Brian Helgeland (for details click here).  Jackie Robinson's story is so dramatic, it's shocking that it hasn't been brought to the screen previously.  A true American hero, Jackie Robinson never wanted to be remembered for being the first black man playing in the major leagues since Moses Fleetwood Walker (1888 – yes, I'm a baseball junkie).  Jackie Robinson just wanted to be remembered for being a great ballplayer.
One of the reasons baseball films work so well is because they have both the team element (doing it for your brother, we all fight as one, etc) and the individual glory (one man at bat to win the game, one pitcher on the mound, a one-on-one showdown).  Individual characters in football/basketball movies get lost in the shuffle and the best of these films tend to focus on coaches.    Baseball at its heart is a solo sport, with long gaps in the middle when you depend on other people.  Star players can make or break a team in a way they can't in other sports, and star players provide great characters for films.
This season, Austin Film Festival presents a triumvirate of great baseball films.  In addition to 42 with Brian Helgeland on Wednesday, April 10th, AFF will also feature THE ROOKIE with director John Lee Hancock on June 1st (click here for more details), and indie bio-pic RESURRECTION: THE JR RICHARD STORY on June 12th.  If you are an Astros fan and long for a day when they were competitive (and in the National League) don't miss this small budget gem with writer/director Greg Carter in attendance (click here for more details).
With that in mind, I've put together the ultimate lineup of the greatest baseball players from my favorite baseball movies of all time.   It's interesting that so many films on this list (and some I left off) came out in the late 80s/early 90s, a time when I was a rabid fan and prior to all the things that ruined baseball for so many people.
Ultimate Cinematic Baseball Lineup
The Batting Order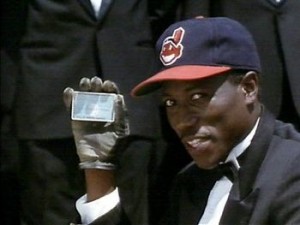 1. CF Wesley Snipes as Willie Mays Hayes in MAJOR LEAGUE (1989).  Almost every character from this film is memorable but the audacity of this guy to buy a 100 pairs of gloves for every base he intended to steal and the way he is able to beat out bunts makes him a perfect lead-off hitter.  Incidentally, MAJOR LEAGUE is my favorite baseball movie of all time and features a stellar cast of Tom Berenger, Charlie Sheen, Corbin Bernson, Dennis Haysbert, and Rene Russo in addition to Snipes.
2. 3B Mike Vitar as Benny "the Jet" Rodriguez in THE SANDLOT (1993).  A classic 5-tool player, Benny can play every position on the field (in fact he does in the film) so I'll stick him in the hot corner and use his speed to circle the bases with Snipes.  A classic kid's movie celebrating its 20th anniversary just like Austin Film Festival.  Vitar is apparently a fire fighter now (so he lived out 3 kids fantasies in his lifetime [actor/ballplayer/fireman] – I guess he didn't have time to be an astronaut as well).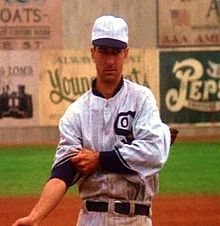 3. LF D.B. Sweeney as Shoeless Joe Jackson in EIGHT MEN OUT (1988) or Ray Liotta as Shoeless Joe Jackson in FIELD OF DREAMS (1989).  Sort of unfair to have one of the greatest hitters of all time on a team of mostly fictional characters but no one can deny the power the mythology that this criminally-wronged player still holds for the average baseball fan.  EIGHT MEN OUT looks at the 1919 Black Sox scandal with the all the glory of a period bio-pic with a fantastic cast (John Cusack, Christopher Lloyd, John Mahoney, Charlie Sheen) while FIELD OF DREAMS puts it in the context of a father and son playing catch.  And if you don't cry during that one, you must have no relationship whatsoever with your father.  A film that is only on its surface about baseball, FIELD OF DREAMS challenges its characters to listen to the voices in their hearts, as well as in their cornfields.  Also I remember rushing home after this one to look up Archie 'Moonlight' Graham in my "Total Baseball," a near 5 pound book (ah, the days before wikipedia).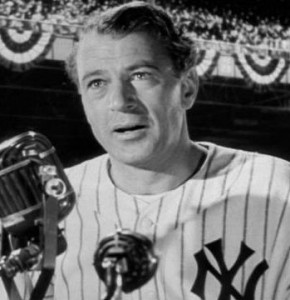 4. 1B Gary Cooper as Lou Gehrig in PRIDE OF THE YANKEES (1942) Every lineup needs a cleanup hitter and this one has one of the best of all time, The Iron Horse himself.  The first great baseball movie, PRIDE OF THE YANKEES was nominated for 10 Oscars and was made three years after Lou Gehrig retired and one year after his death.  Many baseball greats appeared as themselves in this film, including Bob Meusel, Bill Dickey, and the surprisingly astute Babe Ruth.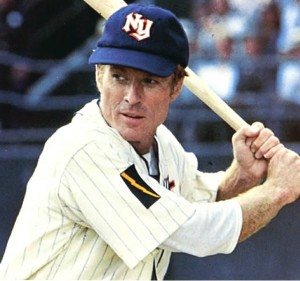 5. RF Robert Redford as Roy Hobbs in THE NATURAL (1984) Usually a manager places their purest power hitter in the 5-spot and with his ability to destroy stadium lighting, and a bat cut from a tree struck by lightning , this 34-year-old rookie fits right in the mix to win games with his bat.  THE NATURAL surrounds Redford with an unbelievable cast (Robert Duvall, Glenn Close, Kim Basinger, Wilford Brimley, Barbara Hershey, Joe Don Baker) and is the first of our classic 'what if' baseball characters.  Hobbs originally came to the majors as a pitcher before being shot in the arm.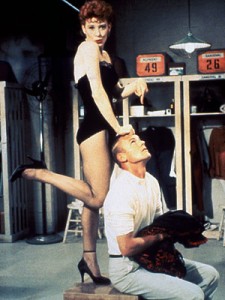 6. SS Tab Hunter as Joe Hardy in DAMN YANKEES (1958) Another 'what if' baseball films, i.e. what if I was the greatest baseball player ever and played for my favorite team, in this case the Washington Senators, a team so bad that they abandoned their city twice (for Minnesota and Texas) and then waited 34 years for the Montreal Expos to be equally bad and become the new Senators.  Rarely do Shortstops hit with power, so Joe Hardy is a shoe-in for the team, after he sells his soul to the devil.  A musical, the film features "Whatever Lola Wants, Lola Gets," early choreography by Bob Fosse, and My Favorite Martian Ray Walston as Satan.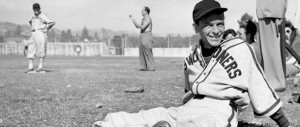 7. 2B Frank Sinatra as Dennis Ryan in TAKE ME OUT TO THE BALLGAME (1949) Gene Kelly may have been the better player and got the girl, but old blue eyes has the advantage of playing 2nd Base, a position severely under represented in baseball movies.  Directed by Busby Berkeley, fortunately all the players on the team double as vaudeville performers.
8. C Kevin Costner as Crash Davis in BULL DURHAM (1988) He can't hit much anymore and his knees are questionable, but nobody calls a game and handles young pitchers like Crash Davis.  This film really understands the way baseball works and is one of the few films on here that couples can enjoy (although my wife is equally a fan of MAJOR LEAGUE).  A very young Tim Robbins and scorching hot Susan Sarandon make up the rest of this classic love triangle.
9. DH: Bernie Mac as Stan Ross in MR. 3000 (2004)  Normally your DH hits for power and would be higher in the batting order but in this case Bernie Mac is back after four years retired, desperate to collect three hits to get him past the plateau he desperately needs to make the Hall of Fame.  A really funny film and a great way to remember a truly talented actor gone to soon.
On the Mound
STARTING PITCHER: Tatum O'Neil as Amanda Whurlitzer in THE BAD NEWS BEARS (1976) This foul-mouthed child prodigy is the daughter of coach Walter Matthou's exgirlfriend.  She may be a diva (demanding ballet lessons, modeling school and imported jeans as payment) but she's a steady work horse and a dependable arm.  She was also one of my first crushes and this is simply one of the greatest comedies of all-time.
RELIEF PITCHER: Dennis Quaid as Jim Morris in THE ROOKIE (2002) Another 'what if' film about a Texas high school coach who loses a bet to his team and ends up at try-out for a major league team.  At 35, Morris doesn't have many innings left in him but his 98 mph fastball makes him a perfect closer.  With one of Quaid's greatest performances, THE ROOKIE gets baseball right, right down to the supportive wife as he toils in the minor leagues.  It's a film that says you are never too old to follow your dreams and is based on a true story.
Off the Field
MANAGER: Tom Hanks as Jimmy Dugan in A LEAGUE OF THEIR OWN (1992) With classic lines like "There's no crying in baseball" and "It's supposed to be hard. If it wasn't hard, everyone would do it," Dugan takes a misfit team (see also MAJOR LEAGUE, THE BAD NEWS BEARS, THE SANDLOT) to the women's world series.  Directed by the great Penny Marshall, A LEAGUE OF THEIR OWN is one of the greatest sports movies of all time, with Geena Davis, Madonna, Lori Petty and Rosie O'Donnell on the field and Jon Lovitz, David Strathairn, Bill Pullman, and Gary Marshall in the stands.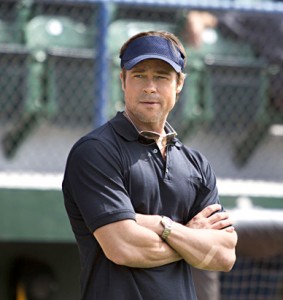 GENERAL MANAGER:  Brad Pitt as Billy Beane in MONEYBALL (2011) The newest entry on this list, this is the only baseball film to ever make working in the front office look exciting.  Great Performances, especially from Jonah Hill, and flashy production value, a great film about some things that maybe made baseball a little less interesting to everyone, WAR, OPS, wOBA, VORP, BABIP, FIP, UZR.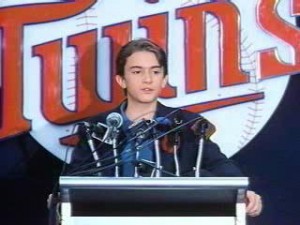 OWNER: Luke Edwards as Billy Heywood from LITTLE BIG LEAGUE (1994) the ultimate fantasy, a 12 year old boy inherits a baseball team.  A movie that I like simply because it shows my favorite team, the Minnesota Twins, winning games, and sometimes I need to be reminded of that.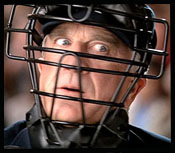 UMPIRE: Leslie Nielsen as Frank Drebin as Enrico Pallazo as the Home Plate Ump in THE NAKED GUN (1988)  Not strictly a baseball movie, but who can forget the butchering of the national anthem ("That we still had a flag!") followed by the worst and most charismatic ball and strike calls  by an ump as Nielsen desperately tries to delay a baseball game and discover the sleeper agent on the field.  Pre-tabloid OJ Simpson isn't the only sports star in the movie as (then current) player Reggie Jackson robotically repeats "I must kill… the queen" and most of the other umpires and the announcers were all the real deal.