Year Round Events
04.10.13| Bears Fonté On Monday April 15, Austin Film Festival debuts its brand new AFF INDIE SPIRIT SERIES with the film VIRTUALLY HEROES, an action comedy from Executive Producer Roger Corman.  AFF Alum G.J. Echternkamp (2011's CAPTAIN FORK) directed the film, a meta-narrative about two Vietnam War soldiers who realize their never-ending mission is actually a video game that systematically regenerates. Echternkamp will be in …
04.10.13| Bears Fonté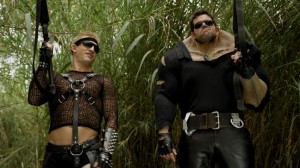 On Monday April 15, Austin Film Festival debuts its brand new AFF INDIE SPIRIT SERIES with the film VIRTUALLY HEROES, an action comedy from Executive Producer Roger Corman.  AFF Alum G.J. Echternkamp (2011's CAPTAIN FORK) directed the film, a meta-narrative about two Vietnam War soldiers who realize their never-ending mission is actually a video game that systematically regenerates. Echternkamp will be in attendance for the screening at the Texas Spirit Theatre at the Bob Bullock, but AFF had a chance to ask him a few questions about the film before his arrival.
Austin Film Festival: Virtually Heroes had a very different path to the cinema.  Can you tell us a bit about where the idea came from and how you went about it?
G.J. Echternkamp: Roger Corman has quite a few Vietnam action movies in his vaults from the late 80′s and early 90′s. He approached me with the idea to shoot a new, extremely low-budget picture using as many of the action scenes from those films as possible. Our initial script was a fairly straight-forward thing, but Roger rejected it, wanting a hook that would make the film more relevant to today's audiences. Somewhere along the way we came up with the idea to make the film set in a video game like "Call of Duty". Not only would it be more entertaining, it would allow us to re-use the old footage in a more thematic, almost comical way, letting the audience in on the fact we were obviously recycling scenes.
Our writer came up with a script based around the setups in the other movies, and I went ahead and edited them all together, to have a sense of how the new footage would have to be shot to intercut with the stock. Ultimately it was very complicated, as the backdrops, eyelines, color correction, and so on had to be very carefully thought out for the editing to not seem completely jarring (or ridiculous).
The final product is admittedly a little ridiculous! But hopefully in a good way.
AFF:  What's Roger Corman like to work with?
GJE: Roger is intimidating as hell. He's extremely smart and extremely to the point. But the great part is that once he signed off on the script he trusted me enough to let me shoot it with no interference whatsoever. It's definitely not easy making an action film with very little money, but having that creative freedom made it all worthwhile.
AFF:  We're you a big Corman fan before?  What are some of your favorite films of his and why?
GJE: I was very much a Corman fan. I definitely like the classics; LITTLE SHOP OF HORRORS, BUCKET OF BLOOD, THE TRIP, etc. But I love the Edgar Allen Poe movies he directed, which less people seem to talk about. THE MASQUE OF RED DEATH really stands out to me as a great film that transcends its B-Movie origins.
AFF: Our Earlybird Film Deadline is coming up (May 1st).  You've certainly got a lot of experience playing the festival circuit with your films.  What sort of advice can you offer a filmmaker starting that journey?
GJE: Well, I guess the biggest advice I could give is to understand that it's is a very long journey. You have to keep making projects and keep putting them out there for as long as it takes.  When I started I had some magical idea that you make a student film and you screen at Sundance and then you get signed and suddenly you're directing the next STAR WARS. Bottom line, that's stupid. For every Wes Anderson there's a thousand other filmmakers who don't find that level of success until they are much, much older. And that's fine. Every little thing you do will slowly pay off down the road, even if you can't see it at the time.
AFF: What are you working on next?
GJE: I'm in pre-production for an adaptation of a documentary I made back in 2008 called Frank & Cindy. We hope to get things off the ground very quickly to shoot in June. If that doesn't work out, who knows? I've been talking to Roger about directing the sequel to Sharktopus….
VIRTUALLY HEROES plays Monday, April 15th at 7 pm at the Texas Spirit Theatre at the Bob Bullock Texas State History Museum located at 1800 Congress Ave, 78701.  Tickets are $5 for AFF Members and $8 for the general public and available here.
READ MORE